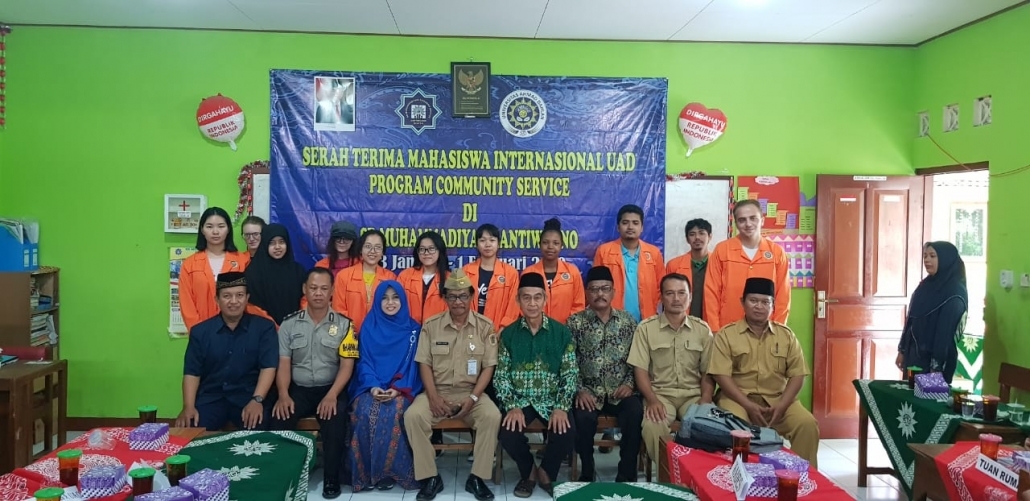 A total of 11 UAD foreign students take part in community programs at Muhammadiyah Elementary School and Muhammadiyah Junior High School Gantiwarno , Klaten, Central Java (1/13). This activity is the seventh time held by UAD and the second time in Klaten. This activity is an annual activity of UAD for the Darmasiswa program. The eleven international students are MD Arfan Rashed from Bangladesh, Rasoanirina Bernadine Brigivane from Madagascar, Ahmed AO Shbair from Palestine, Chen Yan from China, Dora Kiss from Hungary, Hathsady Sisouphanh from Laos, Ianthe Meskens from Belgium, Nguyen Thi Cam Quyen and Nguyen Thi Thuy An from Vietnam, Sabaree Kalamor and Nuree Dueramae from Thailand.
The International students will stay for three weeks in Baturan and Mutihan Village, Gantiwarno, Klaten, Central Java. This event was welcomed by Dwiyanto, S.Pd. who is the Regional Coordinator of Education in Gantiwarno and the principal of Muhammadiyah Elementary School Gantiwarno, Muh. Wahyunto, S.Pd. as well as the Principal of Muhammadiyah Junior High School Gantiwarno, Sidiq Triyono, S.Ag. According to the Regional Coordinator for Educationwarwarno, Dwiyanto, S.Pd. "This community program activity has many positive impacts, one of which is to strengthen the friendship between countries and international students can explore the depth of Indonesian culture". International students will teach in both schools about the culture and language of their respective countries and subjects available in the school.
The community program opening ceremony took place at Muhammadiyah Elementary School Gantiwarno and attended by Regional Coordinator of Education in Gantiwarno, Supervisor of elementary school in Gantiwarno, Gantiwarno District Police Station , The head of the Muhammadiyah Elementary Education Board and the Muhammadiyah branch association. According to the head of the Office of International Affairs, Ida Puspita, M.A Res, "This community program is one of the best programs of UAD Darmasiswa because students can experience life like Indonesians and provide benefits to residents around where students conduct community programs".
https://oia.uad.ac.id/wp-content/uploads/International-Students-of-UAD-Join-Community-Programs.jpeg
622
1280
admin
https://oia.uad.ac.id/wp-content/uploads/logo-uad-mogram-kecil.png
admin
2020-01-14 12:45:31
2020-01-21 11:50:39
International Students of UAD Join Community Programs in Muhammadiyah Elementary School and Muhammadiyah Junior High School Gantiwarno, Klaten