Friday, 5th February 2016. Located at Auditorium Campus 1, UAD held closing ceremony of 27-day internship program for delegates of University of Saint Anthony, Philippines. 4 students of Faculty of Teacher Training and Education/FKIP (Bachelor of Secondary and Elementary Education) and 9 students of Faculty of Arts and Communications did internship program from 14th January to 7 February 2016 in three faculties of UAD, Faculty of Teacher Training and Education, Faculty of Letters, Culture and Communication and Post Graduate Program. During their internship program, they were accompanied by two lecturers from USANT. Mark Philip C. Paderan is a lecturer of Faculty of Arts and Communications and Dr. Emma V. Veras is a lecturer of Faculty of Teacher Training and Education.
4 students of Faculty of Teacher Training and Education did some activities during their internship program such as teaching English at lab schools of UAD such as at SD Muhammadiyah Condong Catur, SMP Muhammadiyah Depok, SD Muhammadiyah Macanan, SD Muhammadiyah 2 Depok etc. Further, they also visited Physics Department to see the process of creating water robots, participated workshop, learnt active teaching method, etc.
9 students of Faculty of Arts and Communications did some activities such as participating in workshop of International Television Broadcasting (TV Journalistic, photography, short movie, talk show, news reader, and presenters),did photo hunting in Ramayana Ballet and Batik Painting Places, made short movies at Malioboro street, etc.
They also conduct collaboration activities, such as joint seminar, as well as learning Indonesian traditional music instrumental (Angklung and Kulintang), tree planting and visited tourism objects, such as Prambanan Temple, Malioboro, Kraton, Merapi Mountain, etc.
As the follow up of this program, on 4th of February 2016 Atty Butch Ortega (Vice Rector of USANT) visited UAD to have business meeting with the Rector and vice rectors. The result of this meeting is to strengthen cooperation between two institutions, such as yearly students exchange program, research collaboration,and Montessory Education System, etc.
Closing ceremony was officially closed by Dr. Kasiyarno, M.Hum. (Rector of UAD) and was attended by Atty Butch Ortega (Vice President for Administration of USANT). Then, it was followed by some performances. Local students of UAD and students of USANT proudly presented the result of their hard practice during internship program. They perfectly played Angklung while singing Indonesian song entitled Tanah Airku. To enrich this event, international students from Thailand performed Pattani Dance's Dzikir Hulu, a Chinese song sung by Zheng Yayue (Chinese student), and Traditional Dance Club of UAD performed Mojang Silat Dance.
Additionally, their works were also appreciated by a competition conducted by Communication Department of UAD entitled "Television Broadcasting". This competition appreciated the students' works in 27 categories, such as The Best Sound Director, The Best TV News Editor, The Best Journalism Camera Person, The Most Talented News Reader, The Most Talented News Presenter, etc.
The winners enthusiastically came to get the trophies on the stage, "I am very happy to be part of this program. We got larger experiences more than we had expected", said Ilarde Richard, A. (Student of USANT).
Mark Philip C Paderan also added, "I am grateful that students of University of Saint Anthony (USANT) were able to experience this internship program here in Universitas Ahmad Dhalan (UAD) because they (USANT Students) have gained a lot of knowledge and skills that will help them in their field of specialization. This program did not just actually build them but also opened their eyes into the Indonesian Culture, Language and Traditions. It is also great because the students were able to have a glimpse of what is in the world outside ourcountry. He added, "I do believe that if this program be implemented continuously, strong collaboration and relationship will be achieved and the objectives of the ASEAN Economic Community will be met. On behalf of USANT, we are very happy that we were able to experience this kind of opportunity and we also appreciate everything most especially the hospitality of UAD people. I hope that this collaboration would be more and more active and productive, helping hand-on-hand for a great success in the future. All glory belongs to God."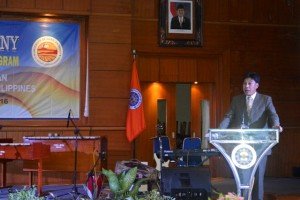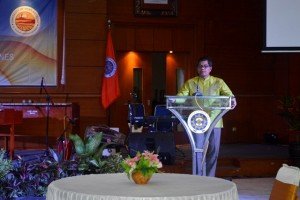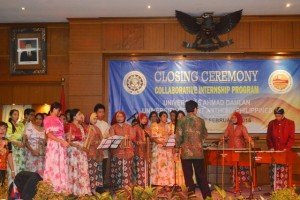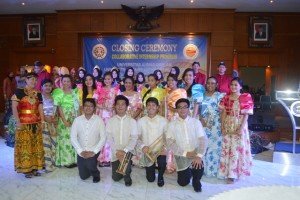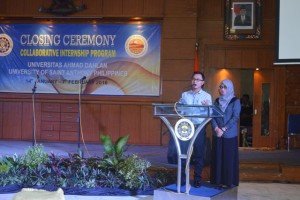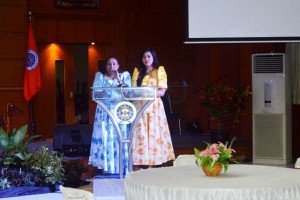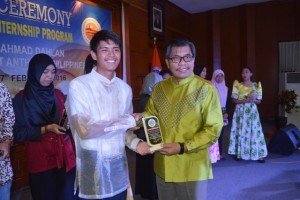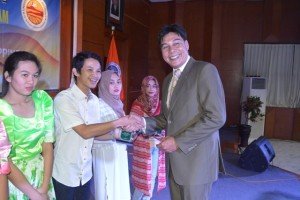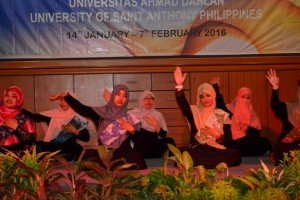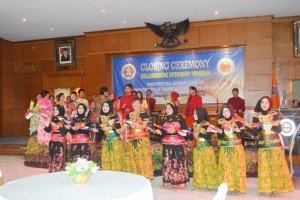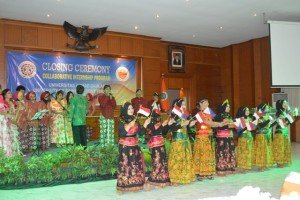 https://oia.uad.ac.id/wp-content/uploads/logo-uad-mogram-kecil.png
0
0
admin
https://oia.uad.ac.id/wp-content/uploads/logo-uad-mogram-kecil.png
admin
2016-02-09 21:52:50
2016-02-16 17:47:57
A Heart-Warming Closing of Collaborative Internship program between UAD and USANT, Phillipines