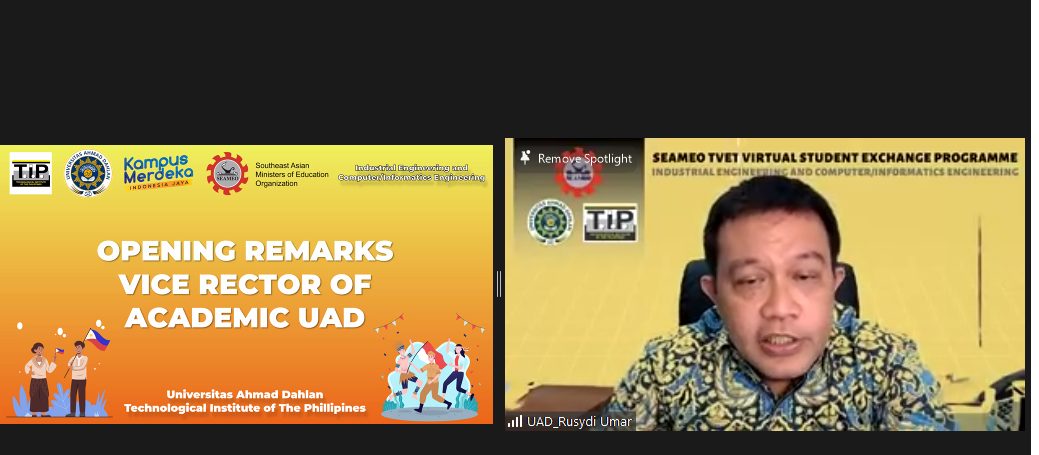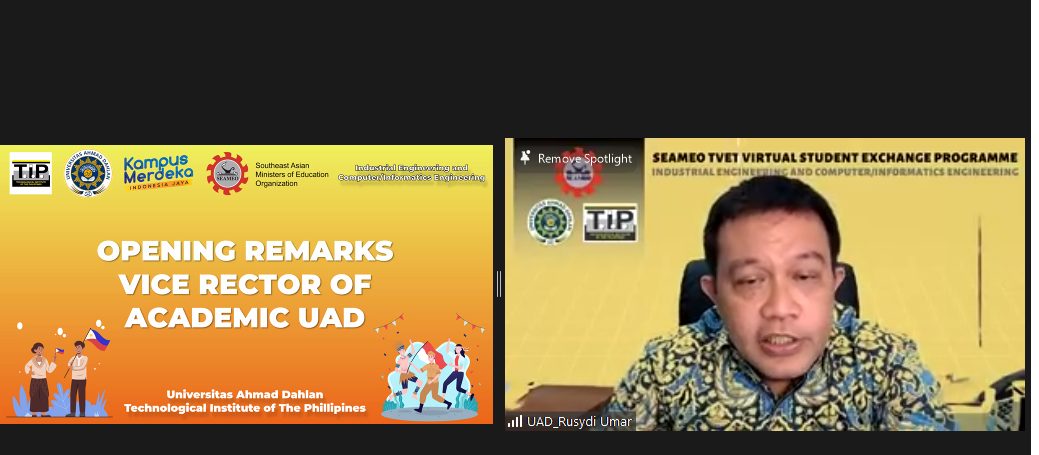 Industrial Engineering and Informatics Engineering Programs of Faculty of Industrial Technology of UAD and Faculty of Engineering – Industrial Engineering dan Computer Engineering Technological Institute of the Philippines (T.I.P) conducted the Southeast Asia Technical and Vocational Education and Training (SEA-TVET) entitled Virtual Student Exchange Program of SEAMEO-SEATVET. This program was conducted for two weeks from the 30th of May to the 10th of June. Two activities were held in this program, those are Short Course dan Virtual Cultural Day.
Technical and Vocational Education and Training (TVET) is one of the seven priority areas for educational development in Southeast Asia from 2015 to 2035. This was officially recognized by the Southeast Asian ministers of education at the Strategic Dialogue of Education Ministers (SDEM) meeting held in Lao PDR in September 2014. The "SEA-TVET Consortium" was one of the recommended strategies from the TVET High Officials from the Southeast Asian countries to promote TVET student and staff exchange.
The participants of this program included 8 lecturers of UAD, 12 students of UAD, an Industrial Practitioner (PT Mega Andalan Kalasan), a participant from Universiti Teknikal Malaysia Melaka, 9 lecturers of TIP, and 14 students of TIP. The students did not only learn their major courses but also local language and culture. This program is the second SEA-TVET program gathered by UAD. The first program was held with Don Mariano Marcos Memorial State University.
The virtual closing ceremony was conducted on the 13th of June 2022 through a zoom meeting. Rusydi Umar, S.T., M.T., Ph.D. (Vice-rector of Academic Affairs of UAD and Marianne Yumul (EE Program Chair at TIP Manila) officially closed this program. In his speech, Rusydi Umar, S.T., M.T., Ph.D. delivered his eagerness for this program. He hopes that this program will be an annual program and strengthen the cooperation between UAD and TIP.
Sunardi, S.T., M.T., Ph.D. (Dean of FTI of UAD), Sri Winiarti, S.T, M.Cs (Vice-dean of FTI of UAD), Jessie Padilla (Dean of TIP QC), Marianne Ymul (Dean of CEA-TIP), Utaminigsih Linarti, S.T., M.T (Head of Industrial Engineering of UAD ), Nur Rochmah, DPA, S.T., M.Kom. (Head of Informatics Engineering of UAD), Dwi Santoso, Ph.D. (Head of Ahmad Dahlan Global Engagement), Ida Puspita, M.A. Res. (Head of International Cooperation Affairs), Lecturers of Industrial Engineering, Informatics Engineering, and Staff of TIP and UAD attended the closing ceremony.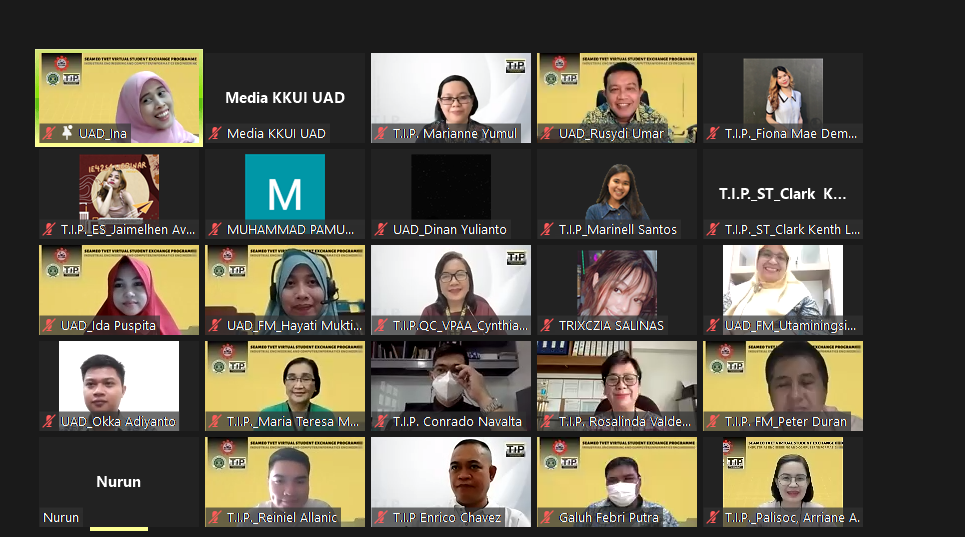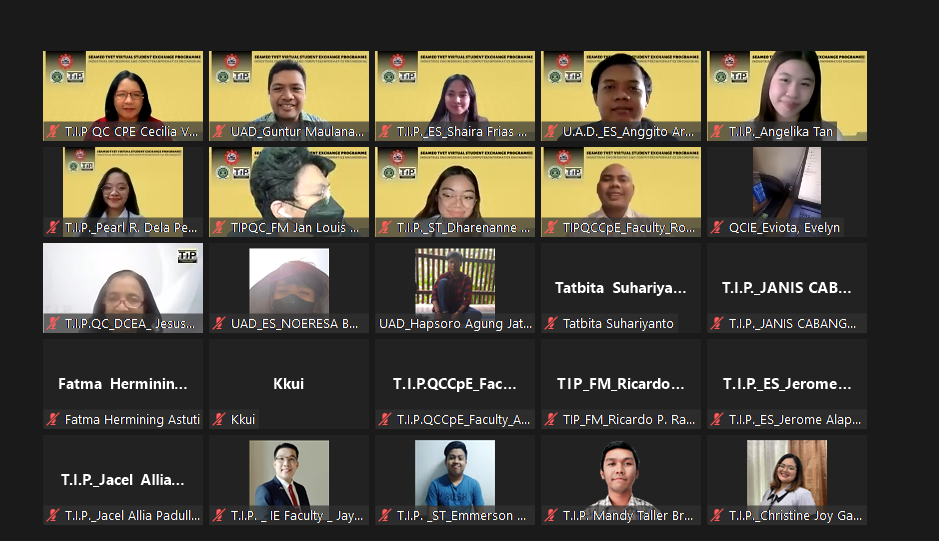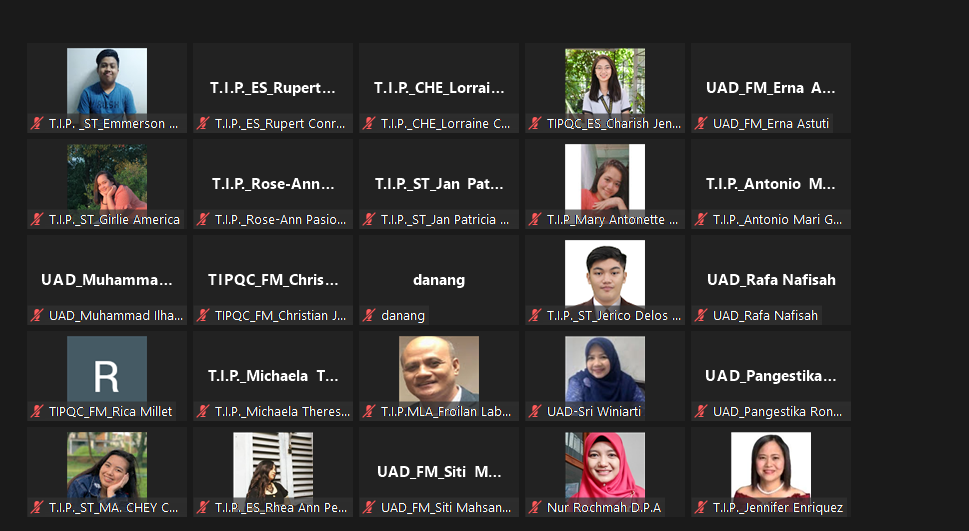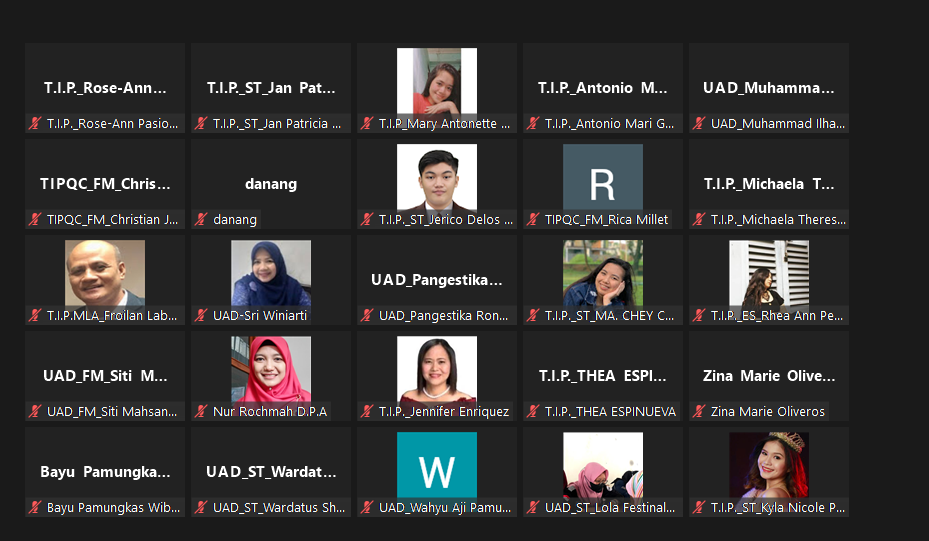 https://oia.uad.ac.id/wp-content/uploads/foto-1.png
455
1039
admin
https://oia.uad.ac.id/wp-content/uploads/logo-uad-mogram-kecil.png
admin
2022-06-18 09:21:24
2022-06-18 09:21:24
UAD and Technological Institute of the Philippines (T.I.P) Conducted Internship Virtual Student Exchange Program (SEAMEO-SEATVET)