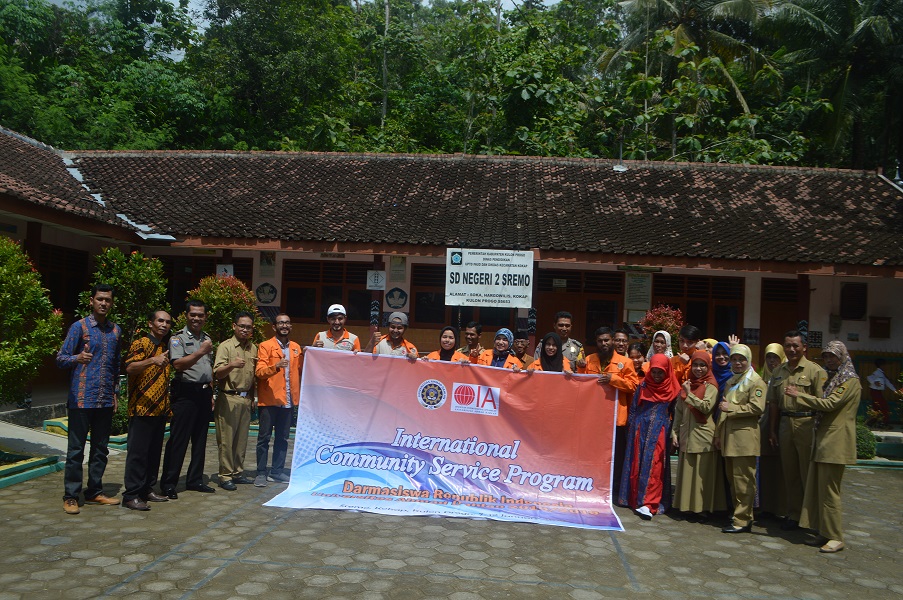 A total of 9 foreign students from UAD joined community program in Sremo, Hargowilis, Kokap, Kulon Progo. This activity was the sixth time held by UAD and the first time in Kulon Progo. Previously this activity was carried out in Prambanan and Klaten. The nine foreign students were Habibullo Nazarov from Tajikistan, Omar Almaktary from Yemen, Koriyoh Wohleh from Thailand, Obaidullah from Bangladesh, Saad Dawood Alhedeeb from Saudi Arabia, Hager Ali and Noha Elkenany from Egypt, Pham Binh Nguyen and Nguyen Thi Hai Yen from Vietnam. They are UAD foreign students from the Darmasiswa program which is a scholarship from the Indonesian government.
For two weeks they stayed in Sremo, Hargowilis, Kokap, Kulon Progo. Sremo village itself is located in the tourist area of Kalibiru which is one of the favorite tourist destinations in Kulon Progo. According to the head of the Hargowilis urban village Pokdarwis, Mujari, "Foreign student activities can provide the different experience to the local residents and promote Kulonprogo tourism". In addition to the students also did their service by teaching at SD Negeri 2 Sremo and TK Sinar Pelangi which is also located in Sremo.
The community program opening was held at SD Negeri 2 Sremo and attended by the village government, the education office, the Kokap police and Pokdarwis (the local tourism community). According to the head of the International Affairs Office, Ida Puspita, M.A. Res, "This community program is one of the excellent programs of UAD Darmasiswa because students can experience life like Indonesians and provide benefits to the surrounding residents where students conduct community programs".
https://oia.uad.ac.id/wp-content/uploads/UAD-sent-the-foreign-students-for-community-programs.jpg
600
903
admin
https://oia.uad.ac.id/wp-content/uploads/logo-uad-mogram-kecil.png
admin
2019-02-23 11:31:07
2020-01-14 12:40:26
UAD sent the foreign students for community programs in Sremo, Kulon Progo